it's time to tap into the magic of being

Empowering you to Elevate your Life for an Authentic way of Being.
You are adding to the Expansion of the Universe,
and All-That-Is benefits from your Existence,
by your Exposure to this Experience and by your Expansion
- Abraham Hicks
Mountain and Mill x The Mystic Nomad
---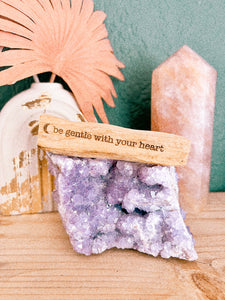 Pachamama, the goddess of the Earth
The Mystic Nomad is proud to partner with Shopify, Pachama and Offset to offset the carbon emissions created from delivering our orders.
because every little thing we can do, matters
Blog
---
I love using crystals to infuse my baths, water, and elixirs - but not all crystals can be submerged in water, some even denigrate! If you're using Crystals in your...
For a long time scarcity mindset was always on my mind.The fiber and spiritual communities are filled with such incredible humans and art that I really doubted if there was...
I am NOT an Artist...That's the story I would tell myself.I loved creating, but I was NOT an artist because my art didn't look like it was "supposed to"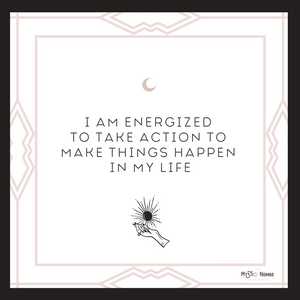 Meditate
Sit and lie comfortably, repeating the affirmation to yourself. Think of a few things that you have been sitting on and visualize yourself taking action on them. Then, feel into the emotion (perhaps satisfaction, joy, or pride) of how it feeeels to work on these things and then actually accomplishing them all.

I often like to have a journal and paper nearby as this meditation often brings up a to do list of everything I'd like to accomplish. Once completed, I always feel powerful and determined to take action!

ᴡɪᴛʜ ʟᴏᴠᴇ, ʟɪɢʜᴛ, ᴀɴᴅ ᴍᴇʀᴀᴋɪ,
𝚝𝚑𝚎 𝚖𝚢𝚜𝚝𝚒𝚌 𝚗𝚘𝚖𝚊𝚍